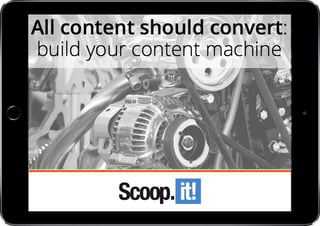 Documenting your content marketing strategy is for sure one important key success factor for lead generation. But that is only the first step of the process! What's next? You need to build your content marketing machine.
Get our eBook and let us walk you through the different steps of building an effective, high-converting content marketing infrastructure.
In particular, you'll know everything about:
The importance of having a proper content marketing machine to make your content convert
How to distribute your content accordingly
Why you need a content hub to generate leads
When and how to gate your content through landing pages
If you are starting with content marketing, rebuilding your strategy or having a hard time generating results from lead generation, this eBook is for you.
Download the free eBook by filling out the form now!