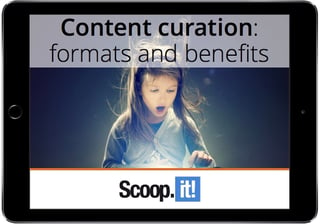 Most professionals think content curation only consists of sharing other people's content on social networks – what we'll refer as social content curation. There are actually several formats of content curation that each help to engage your audience differently.
The purpose of this eBook is to give you a deep understanding of content curation. By reading it, you'll learn all about:
The different formats of curated content with great examples
Their respective benefits for your content strategy
The methodology to succeed with each format (newsletters, website integration, social media sharing, private content hubs,...)
After reading this ebook you will know which types of curated content fit your strategy and how to implement them effectively.
Download the free eBook by filling out the form now!