About the Webinar
You're blogging, sharing and eating your vegetables, but traffic is flat and leads are down. You're working harder for the same results you got last year. It's time to adapt. To go beyond the basics. To take a more advanced approach to your content.
In this webinar, Scoop.it and content marketing influencer Andy Crestodina will teach you to get more traffic in less time.

This webinar will cover blog optimization for experienced bloggers, including the specific tactics for higher rankings, email list growth and guest blogging.
Join us and learn how to:
Find the pages on your site that are ready to rank
Optimize your blog for both traffic and conversions

Find ready-to-publish content you didn't know you had

Collaborate with with influencers, prospects and referral partners

Go beyond the keyword and target broader topics for higher rankings
This presentation is really for professionals with 5+ years of content marketing experience. But beginners will get value too. If you know where you're going, you'll get there faster.
About the Speakers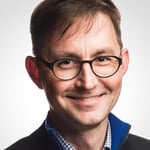 Andy Crestodina, Co-Founder - Orbit Media
Andy Crestodina is a cofounder and the strategic director of Orbit Media Studios, an award-winning web design company, which has completed more than 1,000 successful website projects. He is a top-rated speaker at national conferences andhas written more than 100 articles on content marketing topics.
Guillaume Decugis, CEO - Scoop.it/Linkfluence
"Guillaume's vision guides the development of Scoop.it, the content curation platform for audience engagement. An engineer turned-marketer, Guillaume has experimented a lot with content marketing and developed the lean content marketing methodology as a way to help marketers generate ROI with content."